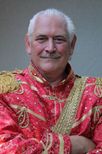 Ty "Magic" Gaston is one the most recognizable sports handicapping figures in the nation. At 6 foot 9 inches and 295 pounds, Ty Gaston seems to be a formidable mountain of a man. His recognizability is mostly regarded by his appearances on Sports Handicapping TV Shows since September of 1985.
His claim to fame has been his ability to handicap sporting events!

Ty Gaston started his sports handicapping career as a Clocker for thoroughbred race horses for the Daily Racing form clocking horses at the Santa Anita, Delmar, and Hollywood Park racetracks. He later signed on clocking horses for a Horse Race Handicapping firm and did radio work in the LA area with handicappers Gordon Jones, Bob Miezerski, and Jerry Antonucci on the "Inside Track" radio show hosted by Steve Arthur.
Ty Gaston whose nickname is "MAGIC" was well regarded in the horse racing industry as a handicapper who clocked his own horses and was known for shocking long-shot payouts, at Del Mar, Santa Anita, and Hollywood Park. On hundreds of occasions, Ty Gaston appeared on horse racing radio shows with his "Longshot of the Day" that clicked at an alarmingly strong winning percentage.
Ty Gaston left the horse race handicapping scene in 1983.
In 1985 Ty Gaston appeared on local Los Angeles-based TV Sports Handicapping shows on KDOC Channel 56. Ty Gaston did TV in the Los Angeles area until 1990 and also had his own Radio show in Los Angeles called "Sports Stop".
In 1991, he moved to New York. While there, he did numerous TV shows including the "Sports Advisors". He also did "Football Forecast" with AJ Benza of Mysteries and Scandals Fame. Ty Gaston also did TV Shows with Brandon Lane, the movie which Two for the Money was made after, and TV Shows Jimmy The Greek Snyder, who said Ty Gaston was the new next generation of great handicappers, and also appeared on television as a host as well as a handicapper.
In 1996 Ty Gaston moved back west, this time to Las Vegas, where he was the host of his own Nationwide TV Show "PIGSKIN PICKEM". Pigskin Pickem was the first football sports handicapping show to feature, virtual reality robots running for touchdowns and tackling other virtual robots, something FOX Sports was noted for, but Ty Gaston originated.
Most notables to join Ty Gaston on his "Pigskin Pickem" TV Show were; 49ers Quarterback John Brodie, Deacon Jones from the Rams, Defensive Tackle Bubba Smith, Jack Snow of the Rams, Punter Sean Landeta, Vince Ferragamo from the Rams, QB Rob Johnson from Cleveland Browns, Marcus Allen, and many many more.
All in all, in Ty Gaston's 21 years on national television, he has done more than 1600 sports handicapping TV Shows, unprecedented for longevity in the sports gaming industry. In comparison, Las Vegas handicapper Jim Feist has done less than 1000 shows in his career, Jimmy the Greek Snyder did less than 500 shows, and longtime sports handicapper Mike Warren never came close to 500 TV Shows. Ty Gaston is the epitome of Sports Handicapping, while others come and go, change names, change companies, etc, Ty Gaston's longevity in the industry is astute and well respected by sports gamblers and sports handicappers alike.
Ty Gaston is most noted for his Inside Information plays, which he calls his "CODE ZEBRA" selections. These are his most expensive, yet most popular, highest winning percentage plays in all sports. In the 2010 NCAA Tournament, Ty Gaston's Personal Players Club plays went an astounding 31 wins and 2 losses, his highest rated tournament in Ty Gaston's 33-year history. In the 2017 NBA Playoffs, Ty Gaston's NBA Picks went 29-2 in his last 31 selections. But that was not all in 2015 Major League Baseball, Ty Gaston's Personal Players Club won an astounding 24 straight major league baseball games, and Ty never released a game over a -165 favorite.
Ty Gaston, yet still young at age 61, resides in Yuma, Arizona, and has offices also in Las Vegas, Costa Rica, and San Francisco!
For any other information regarding Ty Gaston's costs, selections, etc. explore more on our website call him at 1-510-910-0680 or email directly to his office at magiccostarica@aol.com.